Carrie Tolley – Charlemagne Smooth Coat Fox Terriers
The Charlemagne kennel has a dedication to breed for breed type, soundness and temperament, and we will continue to produce puppies who not only have success in the show ring but, just as necessary in our eyes, make excellent family pets.
The Charlemagne kennel prefix was established in 1971 by Marilyn Tolley to show and breed Cavalier King Charles Spaniels – hence the royal kennel name; Charlemagne 
Many years of success was enjoyed with this little breed – Cavalier King Charles Spaniels. However, Brian Tolley then added Great Danes in 1972 and with Great Dane "Ch Noble Nero of Coledane", starting something that we never could have foreseen as the most successful and enjoyable years following for us all with this beloved breed.
These two breeds were shown all over New Zealand, and we soon built up a reputation for breeding quality and soundness and are well known for our excellent temperaments.
Hayley (my sister) and I started our showing career competing in Child Handlers with great success. We both show the Great Danes now for Brian and Marilyn, this allows them to both sit ringside and admire their dogs. Hayley now predominately handles the Danes, I am there to help as she is there to help me show the Fox Terriers.
My first Smooth Fox Terrier was when I was a young girl and because of my experience. I then purchased a Smooth Coat Fox Terrier for my son Jamie to show and be his family pet. I have fallen in love with the breed and now continue breeding under our families Charlemagne kennel prefix, breeding for quality, soundness, and excellent temperaments.
Our family kennels breed Great Danes, Bull Terriers and Smooth Coat Fox Terriers.
The Charlemagne kennel has a dedication to breed for breed type, soundness and temperament, and we will continue to produce puppies who not only have success in the show ring but, just as necessary in our eyes, make excellent family pets.
My family all share the same love and passion for dogs; we all-breed, handle and show our dogs.
My parents first started breeding Cavalier King Charles Spaniels, and as a young child, we travelled to many dog shows. I got hooked and was soon competing in all of the child handlers' events.
My first Smooth Coat Fox Terrier
My parents acquired a pure-bred Smooth Coat Fox Terrier from a local breeder; this was to be my dog, a great companion and my very first show dog. Buffy's life was full of the typical terrier antics and was much loved by me, and we did everything together. Unfortunately, Buffy's life was tragically taken early from me.
I continued campaigning and showing breeds under the Charlemagne prefix with many great successes. Along with breeding Fox Terriers, I am currently showing one of our young Great Danes.
When my son Jamie started to get into the show scene, he would help show the Great Danes, but they grew faster and taller than him, and it became difficult for him to handle them. Jamie and I looked at many breeds, one that he could have as a pet and show, one like Buffy. At a show one day, I took Jamie over to see a Smooth Coat Fox Terrier and had a conversation with the owner about temperament, life span and cost. It was decided that a Fox Terrier would fit in nicely with our lifestyle.
Spike was purchased as a pup from a breeder, and Jamie started showing with great success, winning many a fancy ribbon (see Spike in previous winners). Jamie and Spike were inseparable; they slept, played and got up to many mischiefs together. Spike indeed was Jamie's best mate. Jamie has now left home, and although Spike is no longer with us, Jamie has taken Spike's ashes with him – forever together.
Having Spike around, I once again got hooked on the breed, their quirkiness and tenaciousness and loyalty. I wanted one.
I was contacted by a breeder to take on a black and white bitch to show. When I went to see the pups, I fell in love with Trelise, named after the very successful clothes designer; she certainly took her name in vain and was one of the biggest winning fox terrier bitches of her time. Aptly known as the princess, she was my soul mate who was always by my side; no matter what I was going through, she was there to bring me comfort.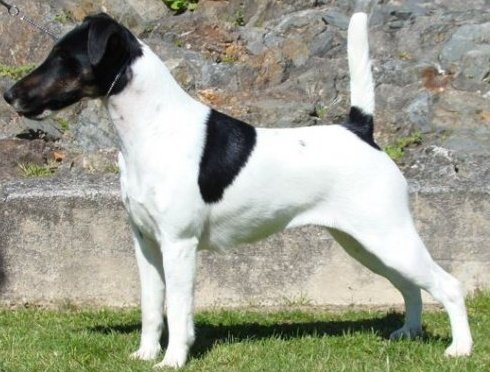 When Trelise became ill, I returned that love and was with her 24/7 for her last week. Even though I still miss both Trelise and Spike, I decided that I needed more Smooth Fox Terriers in my life and that this breed was for me. I wanted to share the breed with many others and, where possible, homes with young families so they could experience the wonderful Journey that Jamie and Spike had. Fox Terriers are just the best with young children; I will tell anyone looking for a fox terrier it's like having another young child in the family. Yes, they can be naughty, and yes, they can test your patience, but OMG, are they loyal and loving.
You may see a theme in my dogs registered names, for example: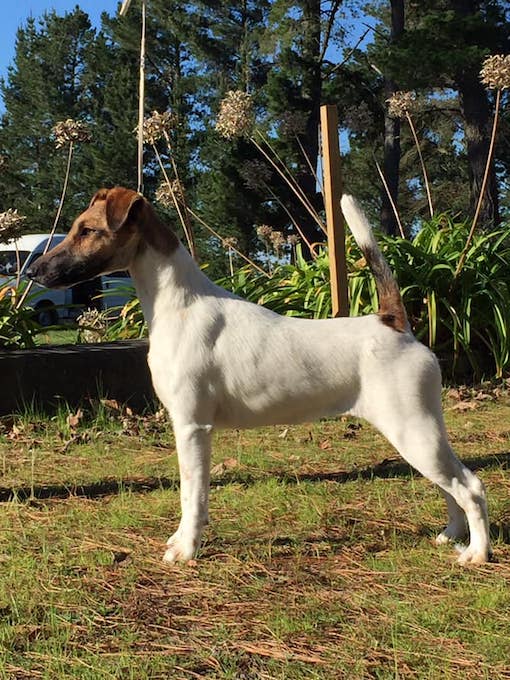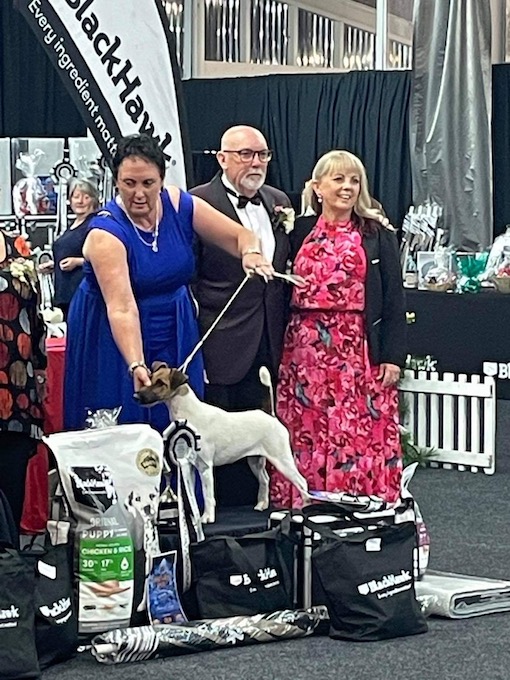 Yes, I love the 1950s and music; often, the name has a double meaning. Lace, aka 'RBISS Ch Charlemagne Chantilly Lace' certainly does have a pretty face and a wiggle in her way… and yes their – Ain't nothing in the world like a big-eyed girl. She is a wonderful sweet girl.
I have a small kennel of 4 and do not breed often. All of my dogs spend a lot of time in my home and are part of my family. They are also thrilled to spend time in the kennel outside with indoor/outdoor runs while I am working – where I am sure they get up to foxie craziness!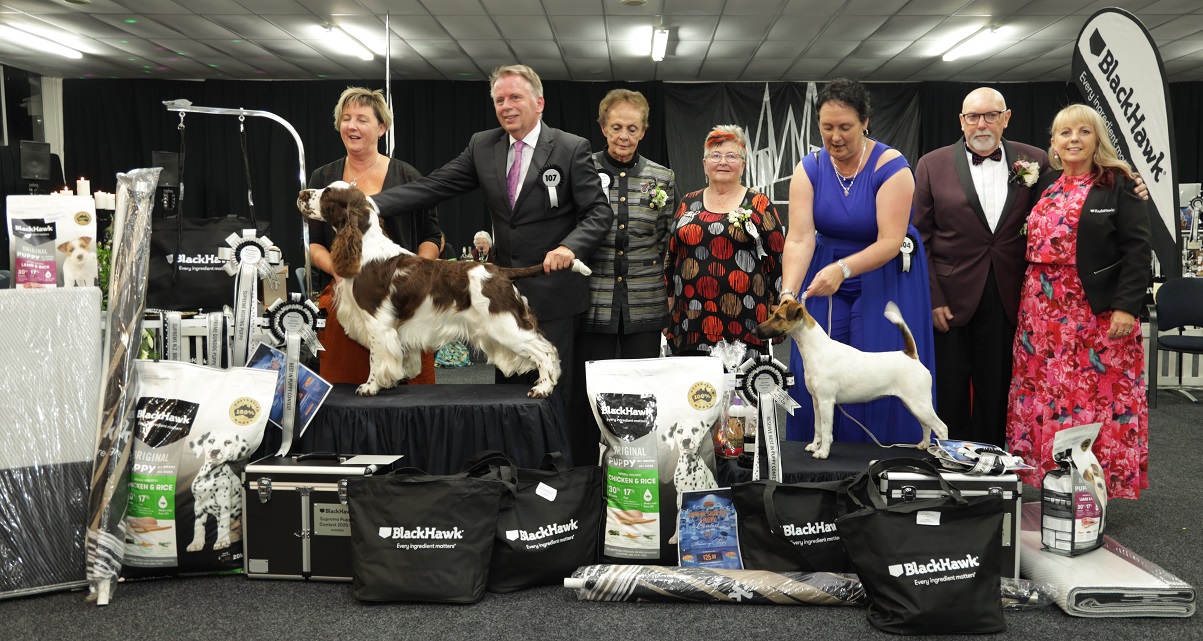 Smooth Fox Terrier Enquiry?
Enquiries regarding puppies or stud services, fill out the form below.